Muay Thai training in Phuket
Phuket lies off the west coast of Southern Thailand in the Andaman Sea, approximately 890km from Bangkok. It is Thailand's largest island at 550sq km, roughly the same size as Singapore, and is surrounded by many smaller islands that add a further 70 sq km to its total land area. Phuket is separated from the mainland by the Chong Pak Phra channel at its northernmost point, where a causeway connects the island to the mainland.
Phuket is quite hilly. There are a few peaks above 500m, the highest being Mai Tao Sipsong at 529m. Many of these are covered in lush jungle. The lowlands consist of rice paddies, plantations of rubber, pineapple and coconut as well as the only significant area of rainforest remaining on the island, which is now protected as Khao Phra Thaeo Park.
The most beautiful beaches are found on the West coast, separated by rocky coves and headlands. The east coast comprises limestone shoals with only a few sandy beaches while spectacular limestone islands adorn the horizon. Coral gardens full of exotic marine life dot the emerald waters surrounding the island, although sadly much of Phuket's coral has been disappearing due to environmental pressures and human activities.
Phuket Hotels and tourist information
Spectacular scenery, stunning tropical sunsets and warm blue sea awaits you at Asia's most popular beach destination. This fun island provides an unbeatable combination of perfect silky soft white palm-lined beaches, superb hospitality and great value accommodation!
Whether it's world class diving in the Andaman Sea, golf at world-standard championship courses or exciting eco-adventures in tropical forests, Phuket is a place to extend your horizons.
Take an exhilarating speedboat trip to the surrounding islands, or enjoy a serene cruise around mystical Phang Nga Bay. Or why not simply enjoy Phuket's vibrant nightlife in Patong Beach? Total enjoyment! Not convinced yet? See our 10 Must See and Do list.
Parents and children, beach bums and barflies, newlyweds and 90-year-olds: Phuket has everything you're looking for. It caters to all tastes, every budget, and promises to deliver a smile-filled holiday in the exotic surrounds of one of the planet's most exciting island getaways.
Whether it is luxurious and secluded, vivacious and untamed, or somewhere in the middle; your niche is here. You will find it. And you will be back for more!
Phuket Beaches & Places

Phuket is a large island with a wide choice of beaches to suit every taste and requirement. Most of the beaches are located on the west coast of the island. The quieter beaches tend to be found towards the island's northwestern coastline, while the greatest concentration of hotels, shops and restaurants is located around Patong and stretches south towards Karon and Kata.
Bang Tao is a large open bay with one of Phuket's longest beaches. The 8km long beach never feels crowded, especially at its northern end.
Cape Panwa is located to the south of Phuket City where lush hills provide magnificent views of the Andaman Sea.
Chalong is a large bay with a pier that is the main departing point for diving and fishing trips, and also has some great seafood restaurants along the seafront. A good muay thai camp is located in Chalong , then you can train muay thai in this muay thai training camp .
Located just to the north of Patong, Kalim is quiet and relaxed. However, the beach is not good for swimming as its quite rocky and there is a coral reef close to shore.
Kamala is only a few minutes drive from the bustle of Patong and a great place for those wanting a quiet and relaxing holiday.
Karon is one of Phuket's longest beaches. Although there are a few large resorts and hotels, they are spread out and the area feels very relaxed.
Kata is divided into Kata Yai and Kata Noi. Both beaches offer stunning scenery and a relaxed atmosphere.
Laem Singh beach is located a few minutes drive north of Kamala in a small curving bay at the foot of forest-fringed cliffs.
Mai Kao Beach is located just north of the airport is Mai Kao beach, an incredibly long and deserted stretch of sand.
Nai Harn Beach is one of the loveliest beaches in Phuket, Nai Harn is relatively undeveloped. The Samnak Song Nai Harn monastery dominates much of the beachfront land.
Nai Thon beach lies about 15km south of the airport. The beach is still quite undeveloped and is a nice quiet place to sit in the sun or take in a swim.
Nai Yang is a long curved bay fringed with tall casuarinas trees, providing an ideal spot for the many picnickers who frequent this beach.
Patong Beach is Phuket's busiest resort area and Patong has the greatest concentration of bars, restaurant and shops on the island.
Phuket City is well worth taking time out from the beach for its shops and markets, its Sino-Portuguese buildings in the old town, its temples and its many restaurants. There is a muay thai fighting stadium in Phuket town .
Rawai Beach is popular with Thais who come to enjoy seafood and the lovely view of the islands from the shore.
Surin Beach is a fairly undeveloped beach with more of a local feel to it. Surin is a great place to enjoy some local seafood right on the beach.
Phuket Map and Photos : the address of muay thai camp & Map in Phuket .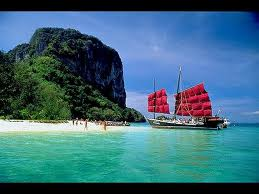 Useful Telephone number
Country code +66
Long-distance code 076
Muay Thai stadium :076 374313
Emergency Call : 191
Tourism Authority Office : 212213
Thai Airways Office : 211195, 212499
Phuket Bus Terminal : 211480
Phuket Air Port : 327230-4
Ambulance : 212297
Fire Brigade : 211111
Tourist Police : 212046, 212213
Wachira Hospital : 211114
Mission Hospital : 212386
Because Phuket is beautiful island . When many tourist come to train muay thai in Thailand , many tourist select to train muay thai in Phuket . Now there are many muay thai training camps in Phuket and many muay thai boxers .
There many muay thai camps in Phuket , the muay thai phuket is the good camp to train muay thai .