Muay Thai is an ancient combat sport in Thailand. This is the type of sport where you use entire body as a weapon. When you practice Muay Thai, your entire body muscles are involved in this exercise, helping you improve your fitness level.
This martial arts sport is commonly known as the "Art of Eight Limbs" because in this practice you'll use eight "points of contact" including elbows, kicks, punches and knee strikes. The Muay Thai trainer is called as a nay muay and western trainers are commonly known as nak muay farang which means a foreign boxer.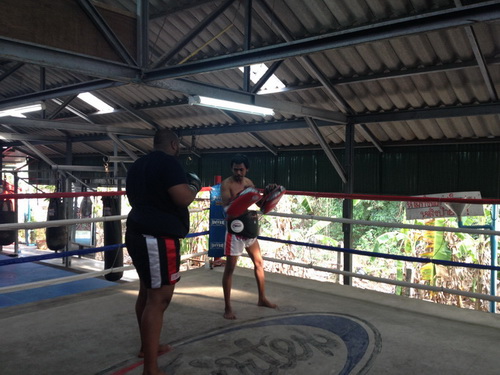 Muay Thai is different than MMA (mixed martial arts). It is not like traditional combat sports where you merely use punches on the opponent, it is played under strict rules with main focus on the improvement of the body conditioning. This sport will not only improve your physical fitness level, but it also makes you mentally strong.
When you plan to lose your weight, first thing comes to your mind is brisk walk or gym training. They are not the only ways to lose your weight. Next time you plan to lose your weight, try Muay Thai which requires proper training before you actually step in the ring and play this sport.
Muay Thai is all about grinding, pain, thrill, excitement, pleasure and much more. You can plan your trip to Thailand alone or with someone else. Either way, you'll get a chance to explore the beauty of this land of smiles.
Learning this sport, you'll also get to know the tips and techniques of self-defense that you can use in day to day life. When you are in a training camp to learn this boxing sport, you'll also learn the tips to stay disciplined. Your presence in the training camp is properly scheduled with different training sessions including rope jumping, shadowboxing, running, weight resistance exercises, abdominal exercises and much more.
There are many training camps located in Thailand. Some are better than others. It is wise to do your due-diligence before signing up for any training camp. It all depends on your nature of stay and the money you want to spend to enjoy the privileges. You'll find different options ranging from most economical with limited advantages to expensive ones with more benefits. From one hour to full day and one week to entire month, you can pick from different training packages.
If you're happy and willing to pay more and money is no problem, you can pick air-conditioned, private rooms with delicious and healthy meal plans. If you're fond of traveling, it is better to choose the training camps located near tropical locations so you can explore new places in your spare time.
Muay Thai sport is a great opportunity to collaborate and communicate with people around the globe coming from diverse backgrounds. Share your thoughts with different people and listen to their wonderful life stories. If you're planning Muay Thai training this summer, you'll witness once in a life time experience full of fun and excitement.